To build an organic fertilizer factory, how should the factory be divided?
The scale of organic fertilizer plant can be large or small. Generally speaking, a large-scale organic fertilizer plant includes the following divisions.
1) The gate and side gate of the factory
The gate of the factory is the channel for the company's business transactions and finished product sales. The side door is the entry channel for feces and other foul-smelling raw materials. The side door is usually close to the fermentation workshop and raw material warehouse, in an inconspicuous position in the factory area.
2) Staff living area
A place for employees to live, relax, and entertain. The staff living area is generally far away from the production area. Vegetables, flowers, trees, etc. can be planted in the living area, which can be pleasing to the eye.
3) Equipment storage area
4) Raw material warehouse
5) Fermentation workshop
6) Semi-finished product storage area
The semi-finished products storage area here refer to the area where the raw materials are temporarily piled up and stored after the harmless fermentation is completed.
7) Processing workshop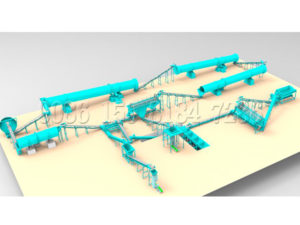 8) Finished product warehouse
It should be mentioned that the raw material warehouse, fermentation workshop, semi-finished product storage area, and finished product warehouse of the processing workshop should be closely connected, which can greatly improve the work efficiency of the enterprise.
9) Office area
The office area should be set near the living area, which is good for work and rest.
10) Planting demonstration area
The ecological formula fertilizer produced by the enterprise itself can be tested in its own test field to grasp the application effect of the fertilizer in real time.
Our fertilizer making equipment is complete in specifications and quality, and all indicators meet or exceed national standards. Our products are popular both at home and abroad. We have realized one-stop service for design, manufacture, installation, debugging, technical training. Welcome to contact us for details.